happy valentine's day to all lovers and haters!
the semester has officially ended for me today but as of monday i will be in school for 4 weeks, as a silent spectator and occasional teacher.
which is only one of the reasons why it was high time for some blouse action. they give you instant authority, don't they. seeing as one of my students in my work said i am little ( he meant young), a blouse will surely do the trick. i also got a red cardigan: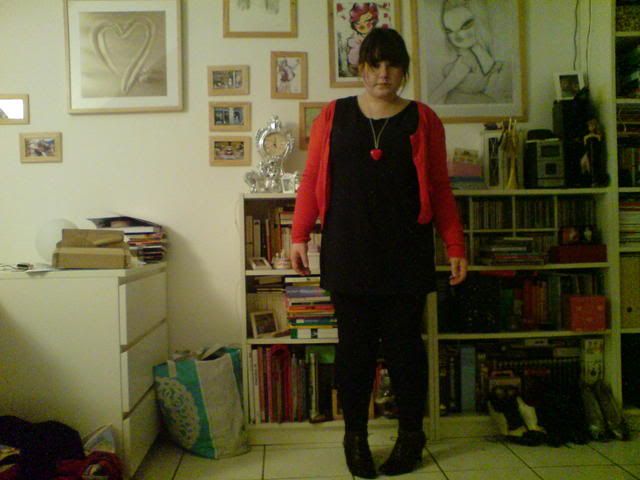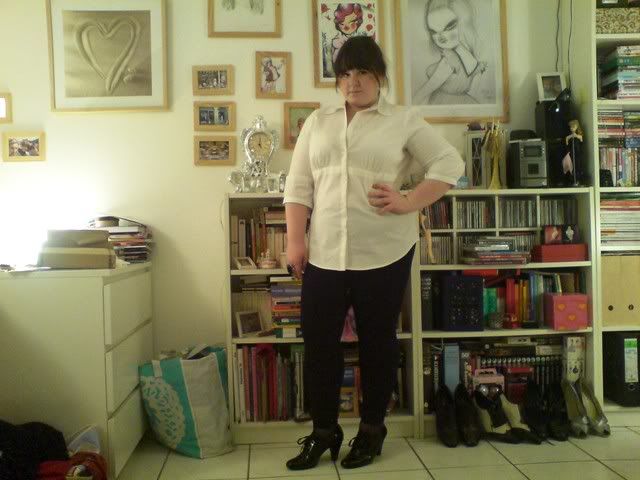 that is all for the outfit part.
i have been tagged by
Indy
, thank you Indy! I am to name "Six Things That Make Me Happy":
Indy m'a taguée, merci Indy! Il me faut dire 6 choses qui me rendent heureuse:

1. when i see puppy dogs (or cats or any other semi-cute baby animal), i want to hold them, cuddle them, keep them forever because i can't bear the cuteness. and i would also really like a little dog for myself. so if ever you feel the urge of making me happy.... buy me one? and walk it for me every now and then. i'm a busy student, you knowwww.
1. quand je vois des chiots ( ou bien des chatons ou d'autres bébé animaux demi-choux), je veux les serrer dans mes bras, les câliner, les garder pour toujours

2. good friends make me happy. i'm a nobody on my own. friends who share your sense of humour especially. those who know who you are really, and treat you the way you deserve to be treated.
2. les bons amis me rendent heureuse. ceux qui on le même humour surtout. ceux qui comprennent qui je suis et me traitent comme je le mérite.
3. film musicals are my eternal source of happiness! i'm all giddy when i get to watch films like "les demoiselles de rochefort". some are just all around perfect and they present me with a cosmos different from mine, with a little more colour and dance.
3. je craque pour les comédies musicaux. j'ai la tête qui tourne quand je regarde des films comme "les demoiselles de rochefort". quelques uns sont parfaits et me donne un monde différent de la mienne, avec plus de couleur, plus de danse.
4. music makes me happy. music enhances the most boring bus rides, and i enjoy having a soundtrack to my (day)dreams. i need it daily.
4. la musique me fait plaisir. elle améliore mes voyages en bus et j'adore avoir une bande originale de mes rêves. j'en ai besoin tous les jours.
5. i'm happy about days when there's nothing and no one to be worried about. they are super rare. carefree days make me very happy.
5. j'aime bien les jours où il n'y a aucune chose ou personne dont on se doit faire des soucis. ils sont trop rares. les jours insouciants me font plaisir.

6. waving to my boyfriend as i walk to my bus makes me happy. you can see the bus stop from my window, and, when he's in, he watches me get on the bus and waves frantically so that people think we're both a bit weird.
6. quand je marche vers le bus en faisant signe à mon copain, ca me rend heureuse. mes fenêtres donnent sur la rue où il y a l'arrêt de bus. quand il est à la maison, il agite la main frénétiquement, alors que les gens nous considèrent un peu débiles.
Here are the rules of tag:
1) link back to the person who tagged you.

2) post these rules on your blog.

3) share 6 things that put a smile on your face.

4) pass the tag along to 6 other fabulous blogs.

5) let the tagged people know by leaving a comment on their blogs
so i will tag the following people:
katha
dani
catrin
lulu
yiqin
and the
styledigger
at last, i give you, for your happiness, general public - tenderness. a treasure from the last scene of clueless. classsssiccccc!
xxx